Dear Ken-Dan boat riders and interested readers of Fishing Tales:

As you know, my father's beloved boat, the "Ken-Dan," was sold in late December, 2007 (after 34 years of being in the family) to a charter business in Cabo. As you might not know, It was eventually renamed the "Linda Fiesta" and became part of the Fiesta Sportfishing fleet. About a year ago, Meredith (my wife) and I bought a six night stay at the Sirena Del Mar in Cabo through a charity auction at Amelia's school. The resort sits about 4 1/2 km from downtown Cabo and is quite beautiful. On a side note, we saw several whales from the balcony overlooking the ocean. Sometime last summer, I got the notion in my head to try and charter "an old family friend" as Marty once referred to the Ken-Dan. Amelia (my daughter) never really got to ride on the boat and Meredith had not been on anything but a bay cruise. During Marty's burial at sea, Amelia proved her sea worthiness by asking to scale the Endeavour's tuna tower while half of the land lubbing side of the Morris family was chumming in the bouncy seas.

After a couple of email inquiries, I reached the owner of Fiesta Sportfishing who named the boat after his wife Linda. He had great fishing days on the boat, but had recently sold the boat to another operation. He offered to act as a go between with the new owners and asked me to contact him a month before our trip to Cabo at the end of March. He also warned me that the boat's cosmetic appearance would not be as we last saw it.

For those of you that have fished Cabo, March is usually good for whiffle giffs and hamifors as far as fishing goes. It usually blows, the water is cold for Cabo and marlin fishing is fairly slow. However, just to charter the old lady once again tugged at the strings of nostalgia regardless of the fishing conditions. As luck would have it, our winter and Cabo's winter has been exceedingly warm. Water temperatures have remained above 70 degrees and the marlin fishing has been outstanding at times through the winter. With high hopes for good weather and a shot at a marlin, I chartered the Linda Fiesta for this past Monday 3/31/14 with my deckhand Amelia and first mate Meredith.

Before leaving for Cabo, I went to storage and brought a few items, amazingly, all of which got used. I brought some 60 and 80 lb fluorcarbon line, a few bait hooks, a purple marauder (for wahoo), 2 Murayama and 1 Pink Collector marlin lures, a peanut pink marlin lure and an Avet HXW 5X-2 speed reel. The reel was my marlin drop back reel that I bought for the Ken-Dandy and had hardly been used, let alone hooking anything. Amelia loaded up a bunch of her special fishing worms and hooks and lures that she has been collecting from Doug at Fisherman's Landing Tackle the past few years.

On the week before our Cabo trip, the wind blew and Geoffrey's (Halperin) full moon shut off the bite as the marlin porked out on squid. After checking in on Saturday with the charter business head, the boat was out fishing the Golden Gate bank and had one bite that fell off for the day. It turns out that a few private yachties hit it big at the "1150" with a couple of boats having double digit scores. However, much of the charter fleet had been blanked with only 1 of 3 boats getting a marlin.

In anticipation of Monday, we shopped at the Cabo Wal-Mart for groceries (yes there is a Wal-Mart, Costco and Home Depot!). Sandwiches were made and drinks were secured. My hardy crew were awakened at 5:30 on Monday morning without too much complaining, because of the special day. I stuffed a pillow in my back pack as I sensed it might be handy for Meredith (it was) and we made the 20 minute drive to the marina.
We arrived at 6:20 AM with the charter boats and bait boats zipping around and I spyed the Old Lady for the first time sitting in its berth. No bow bait tank or zodiac as I suspected, but looking regal and ready to go. After meeting Carlos the Fiesta fleet coordinator, he had to go buy Meredith a fishing license, which would be kind of like me buying a hiking permit to climb Mount Everest. Both would not be very likely to happen, but necessary none the less. I had my annual fishing permit and Amelia did not need one. Walking down to the gate, I experienced Mexico and tourism at its finest. They now charge a 10 peso or $1 dock entrance, err "maintenance fee" per person. I am always humored how they manage to extract money out of tourists. On a side note, I also learned that they charge cruise ship passengers a $5 arrival and a $5 departure fee to access similar docks!

Walking down the dock and to the berth, there sat the Linda Fiesta. First things noted was the removal of the swim step so that the boat could fit in the slip as I was told. Since we wouldn't be filling up the fish bags with boat loads of albacore, no worries. I also noted two new fighting chairs bolted to the deck for the tourist farmers who can't stand and crank and that the old freezer/counter space behind the ladder was converted to bench seating and room for a small ice chest.
| | |
| --- | --- |
| <![if !vml]> <![endif]> | <![if !vml]> <![endif]> |

Much to Dave's warnings, the teak in the cockpit, was in terrible shape (not that it was in great shape when we sold the boat). Tons of screw plugs were missing, planks were loose, but functional nonetheless. Inside the cabin, "Kenneth's sleeping couch" was gone replaced with two long, black, cushioned seats, still suitable for resting. I suspect that the old couch sits in someone's cabana in Cabo as does the large refrigerator that was removed and replaced with an original mini fridge. What was also missing was the plethora of fishing and boating crap that was piled up on the counters, bunks and floors of the old Ken-Dan. I was told that they take up to 10 tourists at a time fishing! Plenty of room to snooze for the day trips. Also, plenty of room to lay out my meager tackle supply. Up to the bridge, there were some notable changes. The two old, moveable bench seats that had housed the life jackets had been replaced with slightly smaller, but fixed versions. The plastic Isen glass was all removed such that just the canopy was upright to protect against the sun. The small glass window that ran along the front of the console that really didn't do anything, was removed. There was a brand new stainless steering wheel and everything was painted white. Only the radio and the Garmin chart plotter were being used. I opened the radar box and it didn't look like it had been used since we sold the boat. I forgot to check the Furuno fish finder to see if it was still there, but Mexican captains have no use for one and nor do they often have a use for chart plotters or a GPS generally.

After meeting Captain Hector and First Mate Luis (both only spoke Spanish) who have been with the boat for the past 5 years, we stowed the food and the gear. Fortunately, Meredith and I both speak close to fluent Spanish. Apparently, the battery was not working so they had to go up the dock to get a new one, what else is new? This happened to Ken Schilling when he took the boat down to Cabo for its last voyage South. A bad omen or just another delay in departure? Charters typically run 6:30 AM -2:30 PM or 7:00-3:00 and usually not a minute more or the union gets pissy. I of course was hoping for an early departure, but nothing ever seems to move quickly in Baja.

A single bait catching rod was all that lined the cabin ceiling where tons of "why do you need all these rods" once sat. My friends used to gawk in wonderment as to why we needed so many fishing rods. Outside, were 4 trolling rods, loaded with 60lb (Okumas and Penn Internationals) and 2 bait casters with Penn 4/O reels. I asked if I could place my Blue Avet loaded with 30lb on one of the bait casters and was given the okay. It was a considerable upgrade and besides, who wants to pull on 50lb if given the opportunity. Luis liked my collection of selected lures with "chain gang" hooks and tied them up to the trolling gear. After casting off, we motored over to the fuel dock and deli. The crew needed to buy food for the day. Not sure why they couldn't do this before, but such is life!

We then got approached by the horde of bait boats and bought 10 lively caballitos for $3 a piece and 6 ballyhoo for trolling. There had been lots of tailers, and feeders so I wanted to make sure we had enough bait. When Daniel and I first went to Cabo 30 years ago, bait cost $1 a piece and was $2 a piece for the last several times we visited. Inflation, inflation!!! Next up was the trip to the port captain patrol boat to check our fishing licenses and we were underway heading out to open sea!

We passed the historic Cabo San Lucas arch sometime around 7:20 AM and headed out in the direction of the "95" spot. Luis spent time rigging the ballyhoo for trolling while I chatted things up with Captain Hector. We talked about the days of ownership of the boat and he asked about the number of engine overhauls. He asked Amelia and I to steer the boat while he went downstairs to tend to some items. I asked if he used the autopilot and he indicated that this was not working either. After a few minutes, Hector came back upstairs with several interesting items. He had several polaroid pictures of the Ken-Dan when it was taken to the boat yard in Cabo. In addition, they had to put in a new engine at some point there after and had several pictures of that scene. Most interesting, he had a copy of the original 38 foot Egg Harbor "Sedan" Brochure that came with the boat along with the various options. I had never seen this before and it was quite interesting that they referred to the boat as a sedan. I snapped a couple of photos and we motored on.

We arrived to an area slightly west of the "95" where a few boats were diddling around and it looked like one boat was either trying to bait or was fighting a marlin. As Luis was setting the lures and putting a line in the outriggers, he yelled from below that he saw some tailers (tailing marlin down swell) on the port side. Sure enough, I looked back and saw a couple of tailers. One of the tailers was a really wimpy looking fish. We angled left, and Luis casted a live caballito over the outrigger lines, but expertly not over Harry's famous casting outriggers. After maneuvering around, we couldn't get them to bite. We cranked in the bait and started heading down swell while I was "glassing" looking for more, when all of a sudden Luis yelled again and I saw a hard follower behind the port rigger on the black and purple murayama lure By the time, I made the "Kenneth leap" to the cockpit, the fish had grabbed the lure and we were on. Luis handed me the rod and asked me to sit in the chair, which I politely declined. While clearing the lines, the fish started surfing down hill and came right to the pressure so I just kept winding and within less than 5 minutes I had the fish at the boat. They were still looking for gloves, rod belts, etc. while I spent 2 minutes trolling the wimpiest marlin I had ever caught right behind the boat. With the fish pointing right at us, the fish would have clearly unbuttoned if not well hooked. After "billing" the fish, we noted that one of the chain gain hooks had penetrated straight through the bill. It would have taken a farmer of epic skills to have dumped that fish. Dripping wet and with the two remoras that landed on the deck, the fish maybe went 70 pounds, probably less. After a quick picture, the marlin was quickly released and we had a released marlin within 10 minutes of fishing time. As old Homer Johnson used to say, "Got another one!" I'm sure that Marty would be thinking the same.

After trolling around for another hour and a half and seeing nothing, we got a report that some boats closer to the "1150" had quite a bit of morning action so we headed in the direction. After the historic catch, Meredith went down for a nap for an hour and a half and on waking proclaimed, "all you caught is one fish so far?" I thought I had high expectations! On the way, Amelia copied sister Melody's prolific sleeping skills on the bridge until we ran across a school of porpoise, followed by multiple turtles, a plethora of small flying fish and a couple of manta rays.

We arrived to the spot 2 and a half hours after the high tide (when they really bit well) to 78 degree water (up from 75 degree water). As I glassed, apparently one of the other boats had baited a swordfish earlier, that would have really made a fantastic story to have found one. All of the boats appeared to be mostly driving around and as I put down the binoculars, two sleepers (sleeping marlin with dorsal fins up) were sitting right in front of the boat. In Mexico, for some reason the marlin don't spook like they do in San Diego after we practically ran the fish over.

After tossing caballitos out on the bait rods, Luis handed my Avet to Hector on the bridge as he circled the area trying to get the sleepers to go. I saw one fish all lit up in the bright blue water come after one bait and then peel off and then after a turn of the boat, the other fish engulfed the bait. Fish on! What followed was an acrobatic display of leaps unparalleled drawing lots of ooh's and aah's from my previously disinterested wife and daughter. As the fish grey hounded, all that came to mind was that "bait fish don't jump!" My father had shouted this in mockery for the last 20 years every time when one jumped thanks to the ridiculous chastising he once received from a Mr. William R. McWethy during a tournament.
<![if !vml]>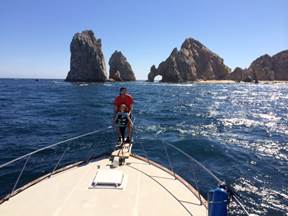 <![endif]>The marlin was clearly twice the size of the previous runt and peeled the 30lb off my Avet with ease. I let out a "its taking line" cry in honor of my uncle Alan who once took his own chastising from my father while getting spooled on a marlin in Cabo. After settling the fish down and dogging it for a while and actually having to pull, I worked the marlin in close enough to "wire" it for another release after about 20 minutes! The fish was hooked right in the corner of the mouth (farmer proof). The crew in Mexico for whatever reason like to release the marlin with the boat stopped (I prefer holding on to the bill with the boat moving slightly forward). As a result, the bill was directly in the air and Luis the mate learned first hand about the dangers of marlin fishing. While holding on to the fish, it kicked and the bill jabbed him in the forehead causing a nasty, but fortunately fairly superficial series of cuts. It is certainly a good way to lose an eye. After the obligatory fish picture, we released the 130 lb marlin to fight another day. 2 bites for 2 marlin is great on any day, and I was perfectly content to begin trolling towards the arch in hopes of a small fish for Amelia to pull on.

As we trolled homeward, Meredith indicated that she was completely bored and was sleeping so much in the hopes that she would awake and we would be home. No such luck! Amelia began asking when she could go on the bow (the first of about 50 times) and I replied that when we got closer to shore she could. As we got closer to home, the purple marauder got pulled from the flat line clip with a zip. Clearly, a missed wahoo based on new teeth marks in the marauder-damn!

While talking on the radio, it was clear that most of the other boats had mostly blanked or only had a bite or so. We were quite fortunate. I figured that we were almost ready to pull the lures when all of a sudden Luis spots a tailer surfing down hill pointing right at us. We quickly spun the boat and threw out a couple of baits. This prompted Amelia to ask why we were turning around as she was focused on one thing only and that was getting to the bow. We spent about 5 minutes maneuvering back and forth past the 2-3 tailers that we spotted, that were moving quite quickly as the wind had picked up. Finally, we got in front of one and wouldn't you know, we were wired again as the fish engulfed the bait! For the second time, I got to pull on the blue Avet and the fish decided to swim up swell for a while getting me wet as we backed down into the wind. I'm sure you must be wondering, but yes, this bait fish did jump as well although not as much as the second as it had thrown out its stomach. After 12 minutes or so, we got close enough to wire the fish and clip the line without having to take another on board picture. In Hawaii tournament terminology, that is 4-3-3 or 3-3-3 depending on who was counting (as in the number of marlin encounters, number hooked and number caught). Three released marlin at the end of March on a fairly slow day for most was more than I could have ever hoped for during my trip down nostalgia lane.

As we headed for the barn, Amelia finally got her wish. We popped her through the forward hatch and she got to ride her way in at full speed holding on to the anchor winch squealing with delight as we bounced through the swells. We posed for an obligatory Cabo arch photo and motored in to the slip. On the way through the marina, the biggest, fattest seal (apparently named poncho) basically physically attached himself to the transom and raised his snout above the transom edge hoping for a free meal. It was quite an accomplishment given that there was no more swim step. Out of some sort of a foreboding notion for the trip, I had also packed one of Marty's marlin flags from Nikki's flags in addition to a tag flag. At the dock, with Amelia's assistance, we took a crew photo (as attached) to commemorate the fine day of fishing on the Legend of the Ken-Dan. Next time, I will bring more tag flags! Until we meet again, the old lady awaits for another fine day of fishing, perhaps with the Dan part of the Ken-Dan.
<![if !supportLineBreakNewLine]>
<![endif]>
<![if !vml]>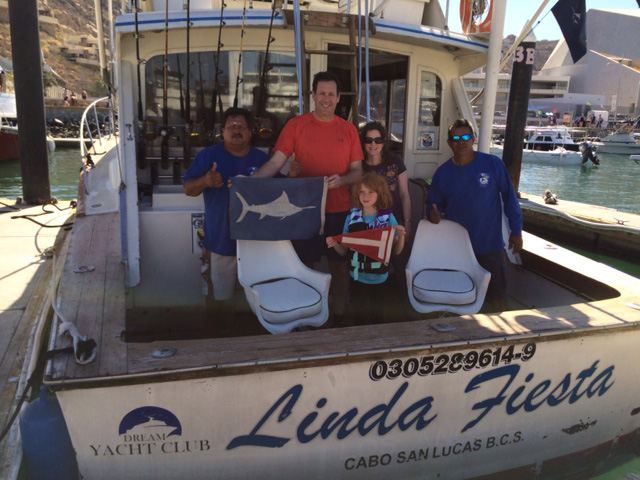 <![endif]>

One footnote, the boat has been purchased by the Marlin Patrol fleet and will likely be renamed the Marlin Patrol IV in the near future in case you are in search for her. www.marlinpatrolsportfishing.com

Additionally, several family members and friends have asked for a glossary of terms in my write up, please submit and I will oblige!

Signing off on behalf of the Morris Family,

Ken, Meredith and Amelia Morris