Kenneth has been trying to get a Swordfish for the past 30 years. Lots of casting, baiting, and looking. He lost one after 8 hours a few years back and last year we fished out of Miami when he lost one at the leader after 2 1/4 hours. This year we fished down at Islamorada, FL with Nick Stanczyk out of Bud 'n Mary's Marina for 2 days of the day time, deep drop swordfishing that has proven to be so productive back there. We were supposed to fish on Monday, the 28th, but got blown off the water. Fortunately they had Wednesday open. For the two days, our (he cranked and I took pictures) score was 8-7-2. A 95 pder tin 25 minutes the 29th for his "button" fish and 214 in 50 minutes the 30th. That first one at 1,525 ft down and the second around 1600. Most of the 95 pder is in our freezer here and the larger fish went to the boat having a commercial license.





We also caught a lot of Dorado (referred to as Mahi's there) up to 45 pds. The best swordfish bait seems to be split Dorado belly strip bait with a single "J" hook. They also slide a marlin lure type of skirt over the hook end of the bait. That's why they are always looking for the dodo while drifting and when running back in. We mailed the shorter bill back home in a PVC tube and I'll have Lyons & O'Haver mount it up. Kenneth is having the other bill kind of scrimshaw (painted with suitable scenes as well as date and weight.
<![if !supportLineBreakNewLine]>
<![endif]>They use a Penn 80 Wide non-electric reel with 80 pd. braided line, 15 pds of weight and a 100 foot leader with the shorter pre-rigged baits.. When it is time to crank up and inspect the bait or after you lose a hook-up they use a gadget the attaches to a hand drill and clamps over the base of the handle. This saves an awful lot of arm strength. It is of interest that everyone there uses Penn spinning reels for the everyday fishing (dodos, inshore stuff, bomefish, Tarpon, etc). We also fished for a couple of days with a Miami Orthopod, I met and along with everything else he uses a Penn 12-0 with monel wire ("it runs deeper"). They do a lot of trolling for the sails and occasional Blue Marlin that might come along. One day out there we caught half a dozen Blackfin tuna (footballs) and one skipjack along with several dodos.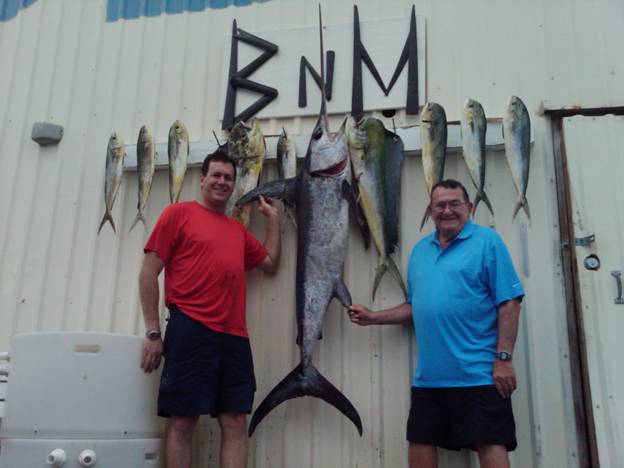 Of interest is that on the second day one of the deck hands was Tim Palmer who was on TV during that Swordfishing series on the Discovery Channel. He was fishing the boat with Linda Greenlaw and
lots of interesting stories to tell. We also spent some time with Nick's father, Richard, who owns the marina and got this whole thing started in this area umpteen years ago. And we heard lots from him.
The heat and humidity was unbearable. And going in and out of the air conditioning took it's toll on me - sniff, sniff.
We had arrived there Sunday night, June 27, 2010 to fish Monday and Tuesday.
Monday it was blowing 20, gusting to 25. We stayed home since Nick had Wednesday free. Tuesday it blew 15 all day out of the SE which, when running south, made it kind of sloppy and bumpy and very rocky during the day. But, of course, "all downhill" coming back. Wednesday it blew 10-15 and in the afternoon a very comfortable 8-10.
So are final score for the two days was the 8-7-2 with 5 of the hook-ups sending our baits back. Nick told us that they have had as much as a 7 fish day, several 5's, several 3's, lots of 2's and 1's and a good
share of O days. And to answer your final question: $1500/day. And Kenneth is on Cloud nine. Bu I still have the family record by 2 pounds. I had two fish in four days - now Kenneth with 2 in 2 days.
And we both have lots of stories of those that got away.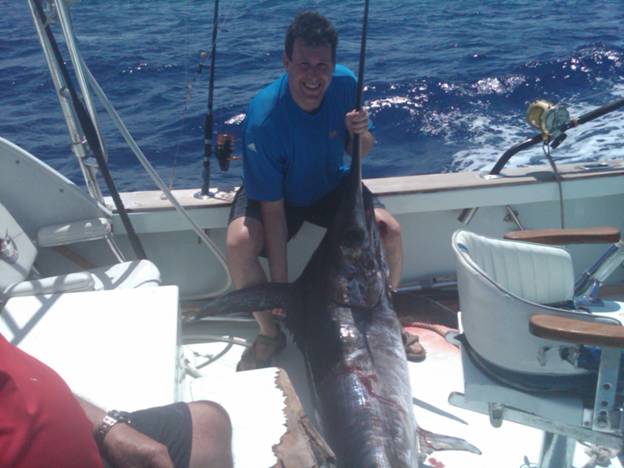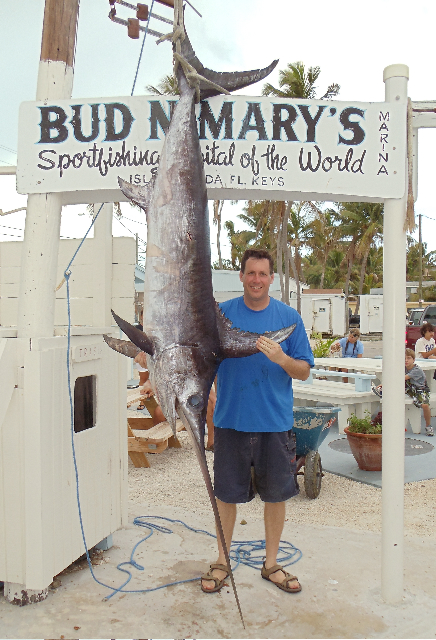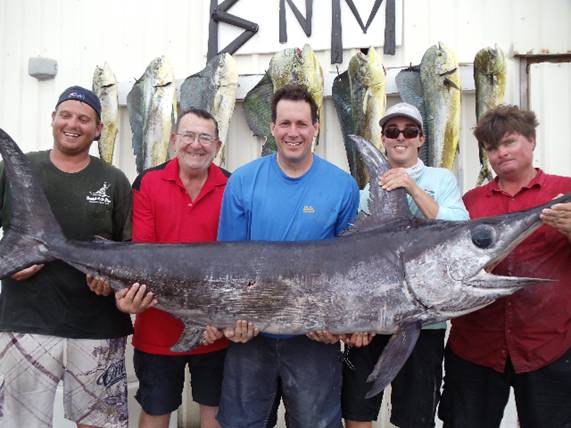 <![if !supportLineBreakNewLine]>
<![endif]>
Here is how the fish was hooked and not going to get away too easily.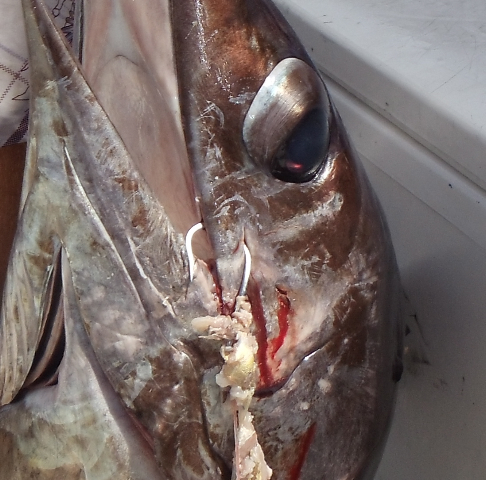 <![if !supportLineBreakNewLine]><![endif]> Here is a comparison view of the size of the eye to my hand. It shows the large cartilaginous globe around the cornea with the dark vitreous inside.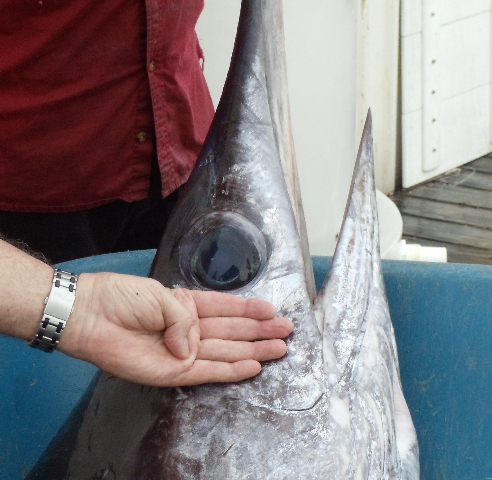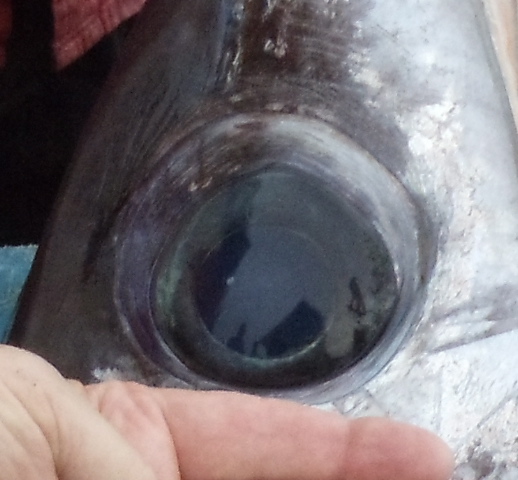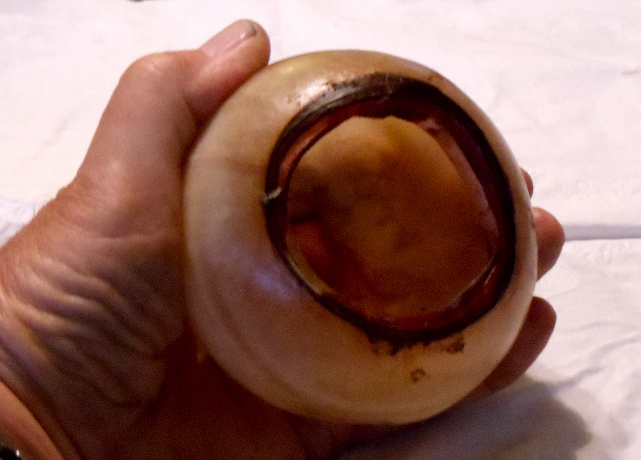 <![if !supportLineBreakNewLine]>
<![endif]><![if !supportLineBreakNewLine]><![endif]>
Here is how the skipper starts out the morning each day - don't leave home without 'em. Also, they don't use electric reels. You get bit you get to crank. If they are not bit and have to wind up the bait and weights they use a device that clamps onto the base of the handle and works with a routine hand drill - 18 V lasts longer. They have a variety of such clamps for the different reels. I ordered one for our 2-speeded Penn 80 W