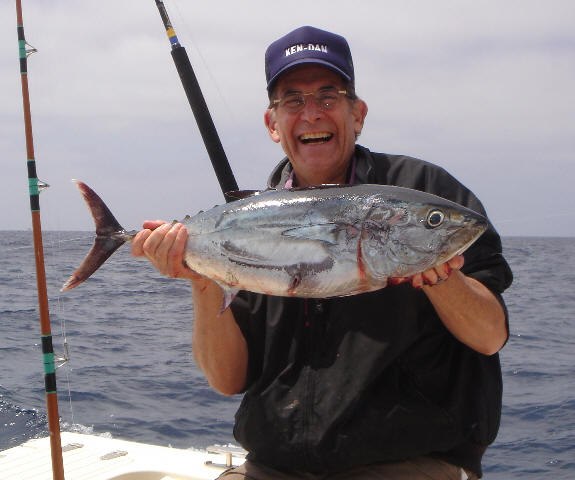 With brother Alan in town the plan was to have fished last Wednesday and then Friday - possibly today. However, the weather report for Friday and the fishing reports were both bad and we elected to stay
home.

For today, we got a late report from Bob Vanian's 976Bite about a WFO BFT bite out west (43 miles) on Saturday. And the weather report was for nice water. So we headed out there. Tom Stockey, a
friend who has fished with us in the past, filled in for Dennis Albert who had an early Monday meeting come up and he was unable to go. By 0730 we found the sport boat fleet and eventually counted 20
sporties and, for a while, we were the only yachtie in the mix. But all of the sporties were stopped and drifting. We spotted areas of breaking fish and in approaching got bit. At one point we had a quad
going with the one jig fish and three baits hanging. But Ken got cut off and Tom's unbuttoned. Alan got the jig and I got my bait fish. We had one more single fig fish and, for a while, had the three BFT who were joined by a single Albie jig fish. WE managed to hang another BFT jig fish along with 2 more bait fish. So we had 6 BFTs (3 jig, 3 on bait) and the one Albie.

Eventually we started working to the East and while going down swell and filleting came an Albie jig bite along with another bait fish. Final score 6 BFT and 3 Albies. Not a bonanza, - just enough to keep Kenneth busy in surgery and smiles all around.

While trolling amongst the fleet several yacht types showed up and among them was the Carol Ann - named after Carol Costa. And there he was, Capt. Happy Kanake himself, Ron Costa. We talked for a while. They had arrived on the scene late, but managed some YT from a kelp patty on their way out.

We looked, but no indication of Marlin activity and heard nothing on the radio. Geoffrey tells us that there are reports of a large school out at the Cortez. Not for us.